Landowner Wind Guide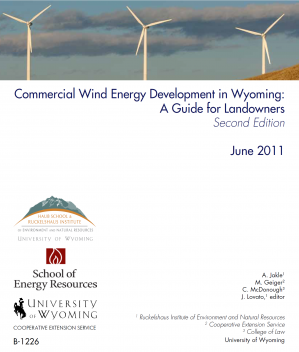 [dropcap color="#5E708D"]T[/dropcap]he updated Commercial Wind Energy Development in Wyoming: A Guide for Landowners, 2nd edition offers insight into ownership/leasing structures, incentives, enforcing existing contracts, and recently passed laws impacting wind energy development. The Guide is provided as a service to the state by the University of Wyoming Ruckelshaus Institute for Environment and Natural Resources, School of Energy Resources, College of Law, and Cooperative Extension Service.
Download the full Commercial Wind Energy Development in Wyoming: A Guide for Landowners
---
Table of Contents
Forward
Chapter One: The Role and Contenxt of Wind Energy
Chapter Two: Stages of Wind Energy Development
Chapter Three: Legal Considerations of Wind Energy Development
Chapter Four: Living with Wind Development
Conclusion
Endnotes
Appendix I: Additional Resources
Appendix II: Wind Energy Rights Act[/toggle]
---
E3 Wind Costing Model
The E3 Wind Costing Model is intended to demonstrate the related nature and relative impact of various cost drivers including capital costs, performance, financing, transmission, state and federal taxes, and others on the delivered cost of wind energy. Energy and Environmental Economics, Inc., (E3) populated, and the University of Wyoming updated, the model with the best available data regarding project cost and performance, and with a plausible set of assumptions regarding project finance and power purchase agreement structure. The model was originally requested by the Wyoming Infrastructure Authority to inform policymakers about the various factors influencing the cost of Wyoming wind energy. However, E3 and UW recognize that economics will vary on a project-by-project basis, and that key inputs will change over time. Therefore, we are making the model available so that stakeholders can verify the model's results and substitute their own inputs and see how the model results change.
Download E3 Wind Costing Model
State of Wyoming Input
Version 2 of the model was updated at the request of the State of Wyoming Governor's Office with input from local and state government and the wind energy industry. A specific list of parties involved is available by contacting the State of Wyoming Governor's Office. If you have questions or comments concerning this process or the design of the model, please contact Colin McKee.
The E3 Wind Costing Model, Version 2, was developed by Energy and Environmental Economics, Inc.
101 Montgomery Street, Suite 1600, San Francisco, CA 94101 • Phone: (415) 391-5100 • Created: June 29, 2010
The model was updated by University of Wyoming Cooperative Extension Service and School of Energy Resources
Updated: August 4, 2011
---
Additional Information:
Wyoming Anemometer and Meteorological Tower Service Companies
KB Energy
1704 State Hwy 13
HC64 Box 412
Arlington, WY 82083
(307) 378-3480

Inter-Mountain Labs
555 Absaraka Avenue
Sheridan, Wyoming 82801
(307) 674-7506

---
County Level Regulations
Nine Wyoming counties have enacted regulations for wind energy development within a land use plan and/or zoning regulation. Click on the county name to access the regulations.
| | |
| --- | --- |
| County | Regulation |
| Albany | Albany County Wind Energy Siting Regulations |
| Carbon | Carbon County Section 5.11 – Wind Energy Overlay-District Regulations (2011) |
| Converse | Wind Energy Siting Regulations (2010) |
| Laramie | The Laramie County Land Use Regulations, Section 2-2-125, Large Wind Energy Systems (2011) |
| Lincoln | Land Use Regulations, Chapter 6: Development Standards, Section 6.31, Wind Power/Wind Energy/Wind Farm |
| Natrona | Zoning Resolution of Natrona County, Chapter VIII, Meteorological Tower and Wind Energy Conversion System Regulations |
| Park | Development Standards and Regulations 2010, Chapter IV: Zoning Standards and Regulations, Section 3, Part a(12): Wind Power (Commercial) |
| Platte | Wind Energy Siting Regulations |
| Sweetwater | Resolution 06-07-PZ-01, Wind Farm Zoning Regulations |